The Massacre at Ona
1 Dec, 1970
At Ona, more than 800 residents and people who fled from the Ethiopian army's bloody raids of the surrounding villages, notably Besikdira, were massacred.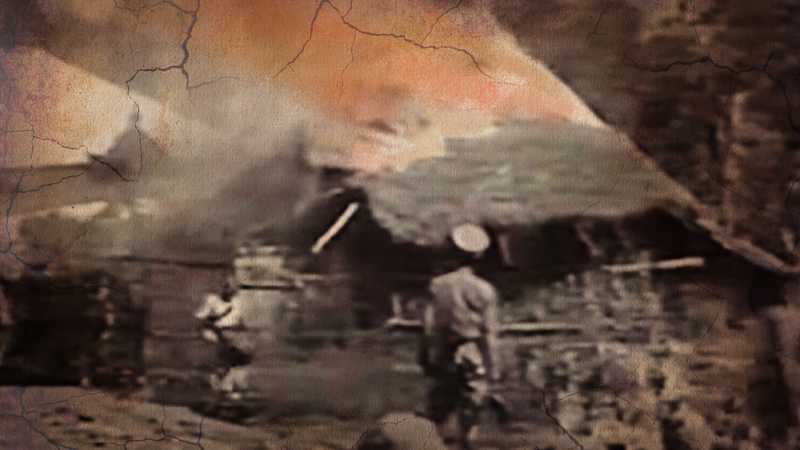 An Ethiopian soldier looks on as a village burns
Following the Ethiopian army's village raids and killing of civilians from surrounding villages, notably Besikdira, many fled for safety towards Keren. Since the army was coming from the northeast having burnt villages on its way and, by then, had crossed the Anseba River, many fled west and then south passing through the village of Ona. The worst so far was what happened the day before to the village of Besikdira where 120 people killed and many wounded. The village almost completely razed to the ground.
This event had sent this influx of desperate, displaced people towards the closest urban center, which was Keren. Many gathered in Ona either on their way or some fatefully concluded Ona would be safe. There were many that worked in the nearby Italian-owned commercial farms that also stayed and gathered in the area.
Knowing this, the army deliberately started shelling the village of Ona at 9AM from the direction of Keren. This would block their progress and escape towards Keren, while the contingent group that had been burning and massacring villages advanced south towards Ona entrapping the fleeing communities there.
When the contingent group of the army arrived, it went on a killing spree on the people at Ona. With the shelling having killed so many of them, the soldiers that included the Eritrean-born, Israel-trained commandos, known by Eritreans as commandis gunned down men, women and children with no distinction. They burned the village and razed it to the ground.
When the day was over, over 800 were massacred. Including the victims of Besikdira from the day before, close to a 1000 lives were lost within 24 hours. This is believed to be the worst Ethiopian army's atrocity on the civilian population in the history of Eritrea. It was carried out under the imperial government of Ethiopia under Haile Selassie I.
Haile Selassie I, Emperor of Ethiopia
The smoke from the burnt villages covered the skies around Keren for a few days. Many witnesses say when the sky started to clear, a thin sediment of ash had settled all around the city, some 10 miles away from Ona. Many residents of Keren slowly started to go to these sites of atrocities and started to bury the dead for several days.
* Part of the story is based on Dr. Keflemariam Hamde's interview conducted by Zekarias Gerima. Please watch the full interview here.